Nashville, TN— From the band that brought you Whiskey Helps and Slow Crusade, Stone Senate hits all the right notes with a new summer anthem. Stone Senate's third single, DOWN comes right off the back of their latest hit, Slow Crusade, which received attention all over the media, like American Songwriter, Backstage Nashville, and Hype Magazine. The Southern Rock band continues to take us on a journey of the highs and lows in life with this newest single peaking at your highest high.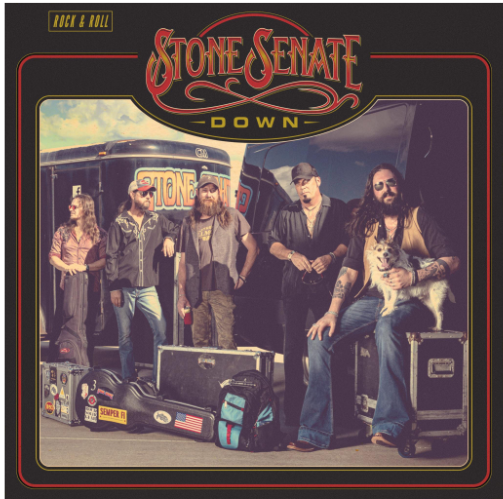 Stone Senate is sure to have you rock in on the dance floor and in your backyard well after midnight. DOWN is an undeniable party anthem for all ages that sets the pace for a fun night. Between lead singer Clint Woolsey's energetic vocals and the classic rock guitar riffs, there is no way to turn down this tune.
"I've been Down, now I'm Down for a good time…"says what it means. With the world a bit out of whack, we're due one hell of a party, and "DOWN" is the jam that'll be playing." chants both James Beau Edwards on guitar and Clint Woolsey leading the group on vocals. After releasing Whiskey Helps and Slow Crusade, Clint continues pushing the rock boundaries with a song in the vein of Guns and Roses and ACDC's Thunderstruck. Stone Senate has created a modern-day classic rock song in its own right. Stone Senate works with renowned producer Toby Wright (KISS, Metallica, Körn, Alice in Chains) and will be the life of your next party.
"DOWN" is one of my favorite songs from this upcoming "EP shares Wright"…. It's the feel-good, party song of 2021! It was amazing to produce this band, as they are some of the best musicians I've worked with in a very longtime.
"With their single Whiskey Helps reaching over 110,000 streams in Spotify alone, these men know how to pass around a bottle while surviving the day. Their thousands of loyal fans couldn't agree more. John Marks, a fan, exclaims, ""Down" is Country rock that simply kicks ass! Oh Yeah!".
With the genre bending and good feelings all around, DOWN is sure to make every party playlist this summer.
So if you're "Looking for something to free your soul "this summer, listen no further. In the words of Toby Wright, "Come and check out this kick ass party song and let's All have a great time!!
Stone Senate's "DOWN" is available from your favorite streaming media service at the following link:
https://orcd.co/ssdown
Stone Senate keeps a very active tour schedule.  We are providing a link to the STONE SENATE TOUR.